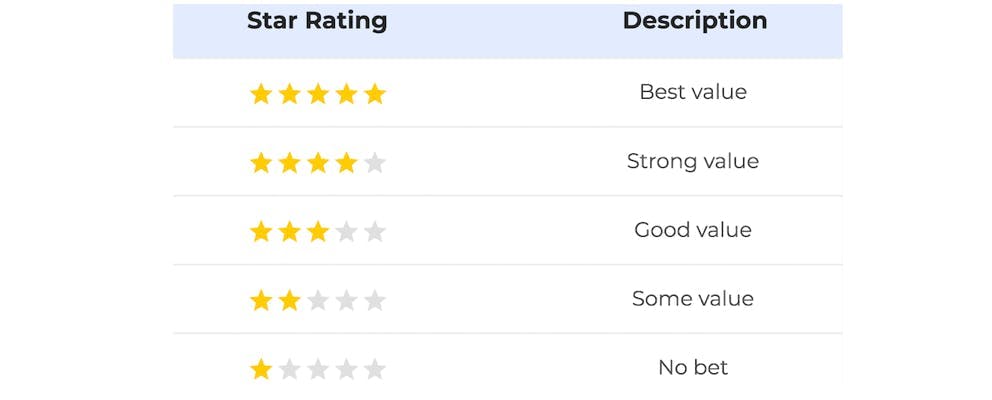 Going line shopping is a way that you can find an edge in a sports betting world that is becoming more and more difficult to consistently find success in. Let's explore how you can use BetQL before looking at odds from your favorite sportsbooks.
Using BetQL's Best Bets Feature
Our proprietary models assign a 1-5 star rating to every spread, moneyline and over/under bet in real time. Our best bets are determined by the difference between our projection and the consensus odds.
Five-star bets are the most valuable bets, followed by four-star bets and so on. The goal of the star ratings model is to make betting as straightforward as possible. The 5-star bets are the best bets because our model indicates a significantly different outcome relative to the current sportsbook line. Conversely, 1-star bets indicate a projected line that is very similar to the sportsbook line — typically a losing proposition for a bettor in the long run. Here are a couple examples: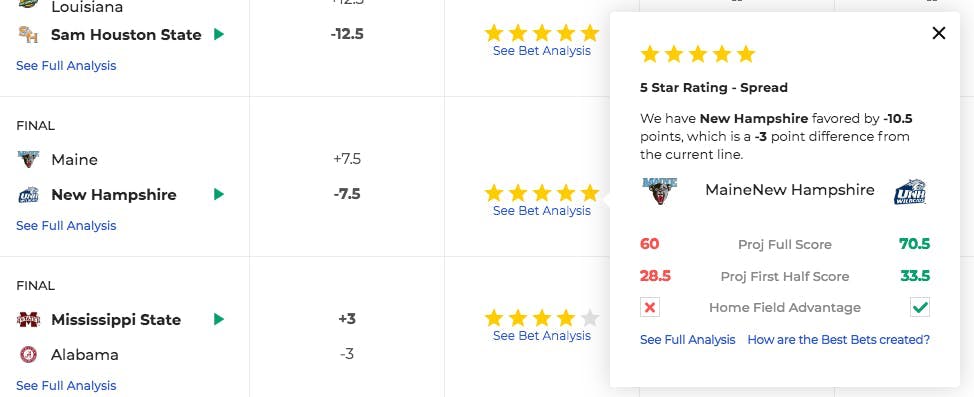 In the college hoops matchup between New Hampshire and Maine above, our model assigned a five-star rating to New Hampshire (-7.5) against the spread because it listed them as 10.5-point favorites (a three-point difference from the consensus line). Therefore, locking UNH in around the -7.5 mark on your favorite sportsbook would be recommended and backed by our model.
If the sportsbook lists New Hampshire at -5.5 or -6.5, for example, that offers even more value, whereas if it lists them at -9, there's less value in locking in the bet.

In this example, over 221.5 total points in the Warriors vs. Blazers game is listed as a 3-star bet since our model projected the total to be 227, a 5.5-point differential. In this case, a three-star bet didn't indicate as much value as a 4-star or 5-star bet, but there's still a noticeable edge.
In this case, if your favorite sportsbook offers a number lower than 221.5, it'd be more of a value, whereas if they offer a number higher than 221.5, it'd be less of a value. Head over to our Exclusive Sportsbook Offers page to make risk-free bets on numerous reputable sportsbooks today!